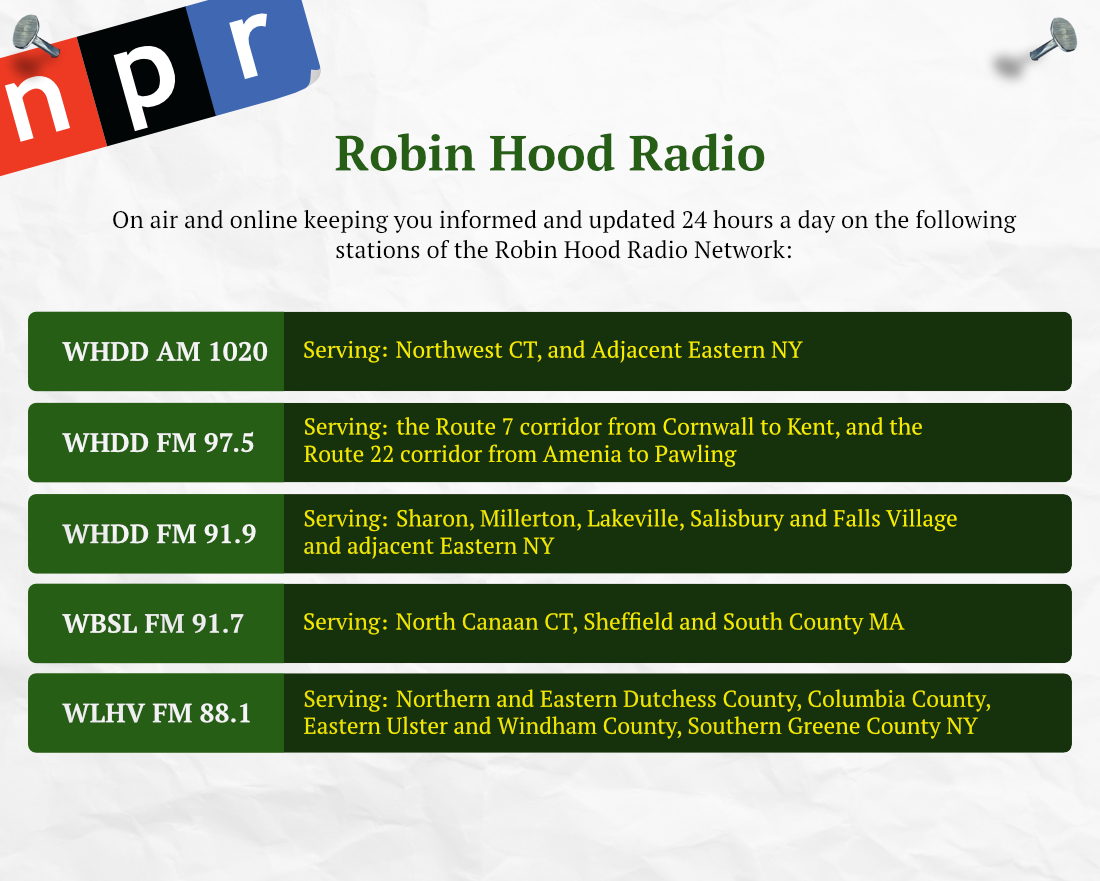 Your Robin Hood Radio Tri-State Forecast
TODAY – SUNNY AND PLEASANT – 75-80
TONIGHT – CLEAR – LOWER 50S
THURS – SUNNY – LOWER 80S
FRI – CLOUDY- CHANCE OF SHOWERS – LOWER 80S
SAT – HAZY – HUMID – CHANCE OF A THUNDERSTORM – MID 80S
SHARON TRANSFER STATION STICKERS
Transfer Station Sticker forms/stickers will be available starting June 21.
Forms are at the TownHall by the back door entrance, available to download and print from the Town website: sharonct.org or in the Selectmen's Office. A reminder to renters that proof of residency isrequired even if you did so previously. Return the completed form by mail with a self-addressed stamped envelope to: Selectmen's Secretary P. O. Box 385 Sharon, CT 06069
OR Drop off at the black drop box located at the back entrance of Town Hall
OR Come in to the Selectmen's Office keeping social distancing in mind as at times there may be individuals ahead of you. Please remember to be patient as we are navigating opening, keeping CDC guidelines in place. Office hours are:
Monday – Friday 9AM to Noon and 1PM to 4PM.
The Selectmen's Office will be open Saturday, June 26 th from 9AM to Noon. Payment is by check or cash. If done by mail, we will return your receipt and the sticker by mail. For more information,contact Tina Pitcher, 860-364-5789 or tina_p@sharon-ct.org
Tri-State Board Meeting 2021: Sunday, December 12 at 12 Noon